The 2023 Subaru Love Promise Community Commitment Award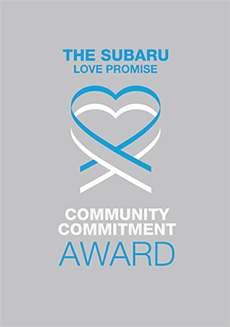 We've been nationally recognized for our dedication to our community and the Subaru Love Promise.
We're honored to receive the 2023 Subaru Love Promise Community Commitment Award. This award nationally recognizes Subaru retailers who are making the world a better place while demonstrating an outstanding commitment to supporting passions and causes in local communities. These efforts are focused in important areas such as the environment, community, health, education, and pets.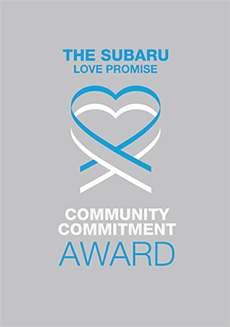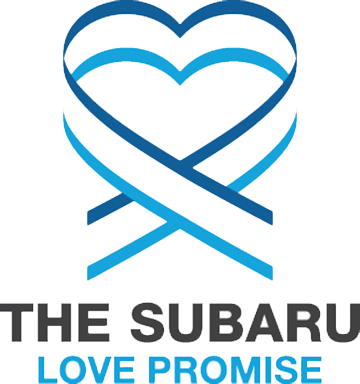 What is the Subaru Love Promise?
Subaru and our retailers believe in making the world a better place and the Subaru Love Promise is our vision of respecting all people. This is our commitment to show love and respect to our customers and to work to make a positive impact in the world.
How is Subaru Antelope Valley dedicated locally to the Love Promise?
Our Love Promise can be seen in various partnerships with local charities and non-profits. We're grateful for the opportunity, not only to be a part of our community, but to serve it as well.
Los Angeles County Animal Shelter, Lost and Found Dog Rescue
Terra Cycle, Green Dealer Support
Quartz Hill Elementary, Linda Verde Elementary, Paraclete High School, Highland High School
Chamber Of Commerce, City Of Lancaster, Antelope Valley Senior Center, AARV
Antelope Valley Children's Center, Boys and Girls Club Antelope Valley, City Of Hope, Desert Haven
Love Promise Stories from Subaru Antelope Valley
Subaru and Subaru Antelope Valley believe in making a positive impact on the communities in which we live and work. We uphold that belief through our Love Promise Community Commitment. Every month, we select inspiring stories from customers and partners from around our area who strive to support our collective commitment and feature them here
Subaru AV Loves to Help - Volunteers of America LA - B. A
During the month of February, Subaru Antelope Valley reached out to our team here at Volunteers of America LA and graciously donated boxes of socks to our Lancaster location. The #1 requested item among shelters is socks, which is such an important, basic item, but many people take for granted. Overall with this small item, the comfort and health of the people in our community is greatly improved. Thanks so much to Angel and his team at Subaru AV for their gracious donation. We hope to work with you in the future.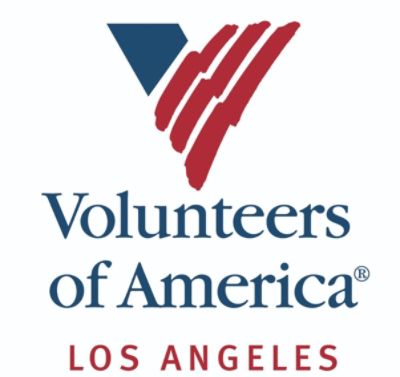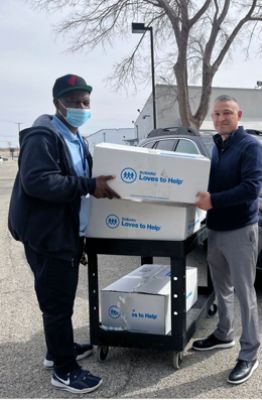 ---
TerraCycle Recycling at Subaru AV - S. H
I was recently visiting the Subaru AV showroom and service drive for a photo shoot and I noticed the TerraCycle recycling boxes in the customer lounge. What a great way for this dealership to encourage recycling of not only items that customers can recycle on the spot, but I learned you can bring in items to recycle from home. Like Keurig coffee pods and other hard to recycle items. I will definitely encourage my friends to bring in items next time they are in the Subaru AV showroom to recycle. Was not expecting this at a dealership and was pleasantly surprised.
---
We go where the need is... - Shannon M
Week three of our partnership with Subaru Loves Pets, we find ourselves traveling from Los Angeles to the Antelope Valley to help those families in need. Ozzie and Friends Rescue also joined us and were able to find a new home for one pup. We were so grateful to be able to join forces with our mobile vet partner, C.A.R.E.4Paws, and our friends at Subaru Antelope Valley to provide a spay neuter clinic to help 20 families and their combined 28 pets get fixed! These families will no longer worry about contributing to the overpopulation in the shelters or worry about health issues such as testicular cancer in male pets or pyometra in females. In addition to providing the spay/neuter services, pet parents were also able to receive free vaccines and microchips to keep their pets healthy and safe. There is a great need for these free or low-cost services in this area. Take Cesar Martinez for example. Cesar had three dogs needing to be fixed to prevent more puppies from being born but could not afford it. When he heard about Karma Rescue and Subaru joining forces for this event, he reached out. Due to the high volume of requests, he was only able to secure two appointments but as luck would have it, on the day of the event, the amazing vet team welcomed his third dog to the clinic and now Cesar does not have to worry about any of his fur babies having babies anymore. "It is important to get your pets fixed to avoid having dogs and cats living alone in the streets hungry and scared. Getting my pets fixed is going to help me and my family in taking care of the pets we have now so they can live a long and wonderful life," Cesar shared this in his request for assistance. There are so many more stories like Cesar's and so many more families in need of these types of services. Thank you again Subaru Antelope Valley for all you did! Angel Ascencio, General Manager, and his team were so welcoming and accommodating and we could not be more appreciative of this partnership!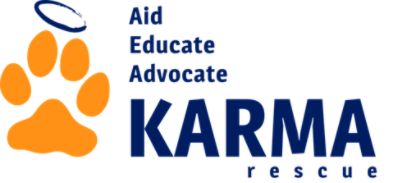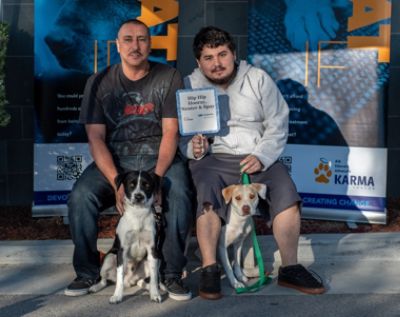 ---
Pet Adoption Event with Palmdale Animal Care and Control - Marissa C
On Sat Oct 15th Subaru AV hosted a pet adoption event with partners at Palmdale Animal Care and Control. Great turnout overall, so many dogs in need of loving homes had a chance to mingle with potential adoption or fostering families. Great to see a local dealership give back to the community both for humans and furry friends alike! #SubaruLovesPets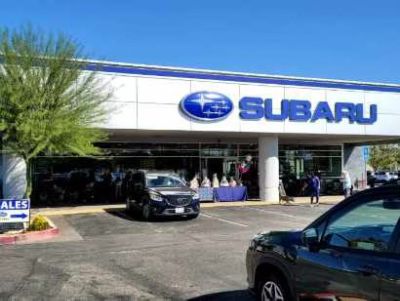 ---
Subaru of Lancaster Loves Learning at Linda Verde - Janet R
Linda Verde is a TK-8 Dual Language Immersion school in Lancaster, California. This fall, Subaru of Lancaster shared its love for learning with six of our teachers who support language arts in the upper grades. Through their Adoptaclassroom.org partnership, these 4th-8th grade teachers now have the opportunity to enrich the lives of the students they serve. Here are some of the things they had to say. "Thank you Subaru for such a gracious gift. Your generosity and thoughtfulness is greatly appreciated." -Mr. Buendia (pictured), 6th grade . "Thank you Subaru for your generosity. My students are excited about the pop-its and new headphones. We look forward to using our donation on art supplies and other classroom supplies." -Mr. Colin, 4th grade (class pictured). Thank you again to Subaru of Lancaster and Adoptaclassroom.org!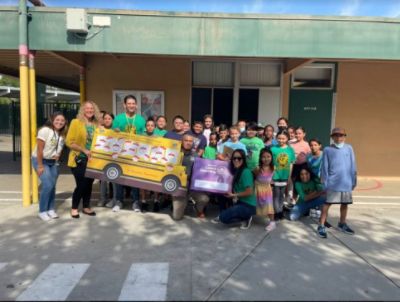 ---
Subaru Loves to Care - Angie W
On Tuesday, June 21st, The Leukemia & Lymphoma Society's Greater Los Angeles region and Subaru Antelope Valley had the pleasure of gathering at the City of Hope Antelope Valley to deliver 80 blankets and craft kits as part of the Subaru Loves to Care Program. Included in the delivery were personalized messages of hope written by Subaru customers. This incredible partnership meant so much to the City of Hope Antelope Valley staff, who were appreciative to deliver these items to their patients currently undergoing treatment. These blankets will go to good use with the patients that need them most. We look forward to working with Subaru Antelope Valley in the future. Many thanks for Subaru Antelope Valley and City of Hope Antelope Valley, not only for the memorable day, but for supporting LLS's mission to cure blood cancers and improve this quality-of-life patients and their families.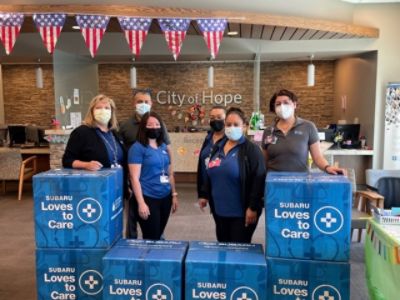 ---
For the Love of Children - Carol S
Subaru Antelope Valley consistently demonstrates its commitment to caring for the community's children. The Children's Center of the Antelope Valley (CCAV) is honored to have been selected as the local charitable recipient of Subaru's Share the Love campaign funds several times in recent years as well as the beneficiary of the dealership's toy drive last December. Subaru Antelope Valley's support helps CCAV provide: ~ Therapy to hundreds of children, who have experienced trauma, at no cost. ~ A memorable holiday experience to children and their families that is unlike anything else they will do during that special season. ~ Invaluable resources to youth and young adults aging out of foster care who can use a helping hand to overcome barriers to successful "adulting." Every day the Children's Center strives to improve the lives of local children and their families as they work to break the generational cycle of trauma. This is only possible through the support of local businesses and individuals like Subaru Antelope Valley. Thank you, Subaru, for your generosity and ongoing commitment to making the Antelope Valley a better place to live, work and play.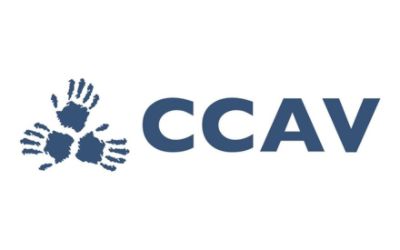 ---
Subaru AV Spark the Love Toy Drive - Childrens Center A
At Subaru Antelope Valley, we believe in supporting our community and giving back in more ways than one. Partnering up with Spark of Love Toy Drive with the Los Angeles County Fire Dept has been so rewarding. We love seeing the smiles this event generates from the community. All the toys were delivered to the Children's Center of the Antelope Valley, a cause very special to our heart. We look forward to continuing this wonderful partnership for years to come. Thanks to all who participated!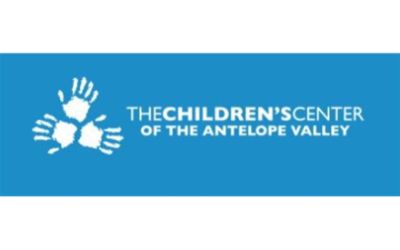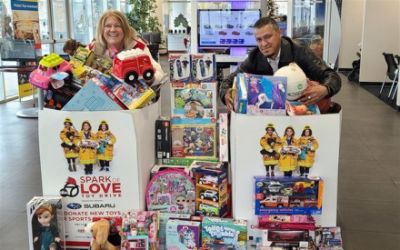 ---
Forever Homes For Our Furry Friends - Marissa C
It's no secret that at Subaru Antelope Valley, we love pets, and that's why we are dedicated to sponsoring and donating to a variety of causes that improve the lives of our furry friends. Every October, we team up with local shelters and celebrate our furry friends with an in-store pet adoption. We supplied new parent kits to every new family adopting an animal, along with lunch, drinks and refreshments to all the volunteers who donated their time to help. Also, Subaru Antelope Valley will donate $100 to the local shelter for every pet adopted for this month. Subaru Loves Pets is one of our favorite initiatives because it combines two of our priorities: giving back to the community and helping animals have a better quality of life.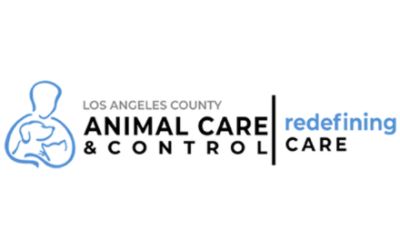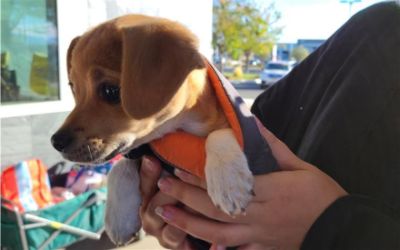 ---
Feeding Our Seniors - Cynthia R
After a lifetime of hard work, many older adults find themselves facing an impossible choice — to pay for groceries or medical care. Our team at Subaru Antelope Valley has joined forces with the residents of Antelope Valley to collect food for those in need during our "Subaru Loves To Care" event. The collection lasted for only three weeks, but the groceries just kept coming from the generous residents of the Antelope Valley. Our sales team delivered the groceries to the Antelope Valley Senior Center where they were so thankful that we thought of them.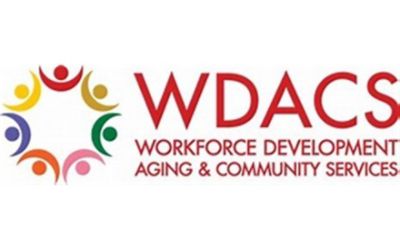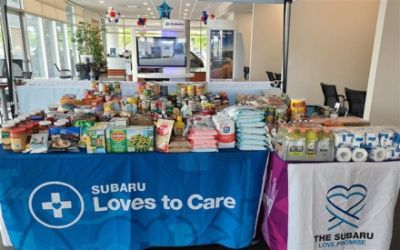 ---