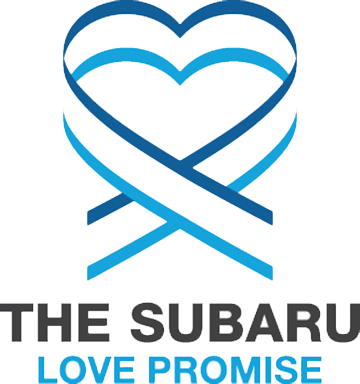 What is the Subaru Love Promise?
Subaru and our retailers believe in making the world a better place and the Subaru Love Promise is our vision of respecting all people. This is our commitment to show love and respect to our customers and to work to make a positive impact in the world.
How is Subaru Antelope Valley dedicated locally to the Love Promise?
Our Love Promise can be seen in various partnerships with local charities and non-profits. We're grateful for the opportunity, not only to be a part of our community, but to serve it as well.
Los Angeles County Animal Shelter, Lost and Found Dog Rescue
Terra Cycle, Green Dealer Support
Quartz Hill Elementary, Linda Verde Elementary, Paraclete High School, Highland High School
Chamber Of Commerce, City Of Lancaster, Antelope Valley Senior Center, AARV
Antelope Valley Children's Center, Boys and Girls Club Antelope Valley, City Of Hope, Desert Haven
Love Promise Stories from Subaru Antelope Valley
Subaru and Subaru Antelope Valley believe in making a positive impact on the communities in which we live and work. We uphold that belief through our Love Promise Community Commitment. Every month, we select inspiring stories from customers and partners from around our area who strive to support our collective commitment and feature them here
Forever Homes For Our Furry Friends - Marissa C
It's no secret that at Subaru Antelope Valley, we love pets, and that's why we are dedicated to sponsoring and donating to a variety of causes that improve the lives of our furry friends. Every October, we team up with local shelters and celebrate our furry friends with an in-store pet adoption. We supplied new parent kits to every new family adopting an animal, along with lunch, drinks and refreshments to all the volunteers who donated their time to help. Also, Subaru Antelope Valley will donate $100 to the local shelter for every pet adopted for this month. Subaru Loves Pets is one of our favorite initiatives because it combines two of our priorities: giving back to the community and helping animals have a better quality of life.
---
Feeding Our Seniors - Cynthia R
After a lifetime of hard work, many older adults find themselves facing an impossible choice — to pay for groceries or medical care. Our team at Subaru Antelope Valley has joined forces with the residents of Antelope Valley to collect food for those in need during our "Subaru Loves To Care" event. The collection lasted for only three weeks, but the groceries just kept coming from the generous residents of the Antelope Valley. Our sales team delivered the groceries to the Antelope Valley Senior Center where they were so thankful that we thought of them.
---
Committed To Helping Our Community - Jenni M
At Subaru Antelope Valley, we believe it is our job to support and help preserve the vitality of our community. That's why we chose to help Desert Haven, a nonprofit organization dedicated to developing, enhancing and promoting the capabilities of persons with developmental disabilities. The Desert Haven program provides "Consumers" with the opportunity to learn important skills needed in everyday life: at home, in the community, and on the job. The team at Subaru Antelope Valley met with some "consumers" and were so touched that the money they helped earn went to such a good cause. Subaru Antelope Valley Management presented a check for $24,347 to Desert Haven management, along with Desert Haven consumers. Thank you Desert Haven for touching our hearts!
---
We're Veteran Friendly - Jack S
Inspired by the vast number of homeless and at-risk veterans in our community, Subaru Antelope Valley heard a local veteran was going to be having a special day. Jack Scott, a navy veteran from World War II celebrated his 100th birthday in January of 2021. As the touching video went out on social media, Jack began getting birthday cards in the mail for his special day. His 100th birthday was celebrated with family and a few friends over cake and good times. Subaru Antelope Valley was proud to be a sponsor!
---
Tugging On Heart Strings - Los Angeles County A
All dogs and cats want is a loving, caring home, and nothing tugs at humans' heartstrings more than when they see an animal abused or without a home. At their best, these animal adoptions restore your faith in humanity, fully exhibit the trans formative power of love, and serve as a reminder that we don't choose our pets so much as they choose us. At Subaru Antelope Valley we teamed up with LA County Animal Control for our annual pet adoption, and found so many great families that wanted to give these animals a home, that it was sure to make you shed a tear. New Parents were given blankets, bowls, toys, and information on training their new family member. We are so fortunate to be a apart of great events like these!
---
Getting A Jump On Learning - Janet R
At Subaru Antelope Valley we believe that the children of today will shape our world tomorrow. That's why we're excited to join Subaru of America in their efforts to make knowledge attainable and accessible for all children. With the help of our staff and our customers, we are proud to donate 125 science books to Janet Renteria's class at Linda Verde Elementary. These award-winning books have been made possible by the American Association for the Advancement of Science, and are sure to help the students get a jump on learning.
---
Making The World a Better Place - City Of Hope L
One of the best things about Subaru Antelope Valley is how dedicated we are to supporting so many incredible causes in our own community. We're excited to be teamed up with the Leukemia & Lymphoma Society to spread hope, love and warmth to those fighting cancer. Today, Subaru Antelope Valley donated over 60 blankets, arts and craft kits, and cards of hope to cancer patients at the City of Hope, Lancaster. Subaru Antelope Valley, the City of Hope, and the Leukemia & Lymphoma Society, and multiple cancer survivors chatted with patients and presented gestures of hope for a speedy recovery. The patients were touched by the cards written by our Subaru customers and employees, and thanked us continually for the warm blankets and art kits. These blankets were a special reminder to them that someone is thinking about them as they undergo their treatment and work towards getting well.
---
Good To Be A Green Kid - Janet R
Recycling with kids is an incredibly important thing to do, and a good concept to promote. Through the Recycling Partnership between Subaru Antelope Valley and Linda Verde Elementary, students are taught an invaluable learning experience. Each day student's put their snack bags and bottles into the recycle bin so that they can be turned into something new. By re-purposing items before throwing them away, kids learn that making new items from recycled ones takes less energy, and fewer resources than making products from brand new materials. These same students eventually become the stewards of our community, and our precious environment. Not only are they likely to pass on the practice of recycling to their peers and members of their household, but they will become lifelong advocates for greening our environment.
---
Subaru Antelope Valley Shares The Love - Desert H
Today, Subaru Antelope Valley presented a check to our local charity Desert Haven, for $25,725 through the "Share The Love" event. The sales team at Subaru Antelope Valley welcomed the challenge, and from the moment we met, they made a commitment to help Desert Haven. The goal was to be able to maximize the potential and independence of consumers at Desert Haven with developmental disabilities through vocational training and job placement. The consumers enjoyed a special "Love" song by Subaru personnel and were overwhelmed with the generosity of the money which they were going to put to good use and try to buy a bus for transportation. Desert Haven has been a labor of love to persons with intellectual and developmental disabilities since 1954. Established by a group of parents, who wanted their children to have every opportunity for an independent, productive, and fulfilling life…just like anyone else…Desert Haven provides vocational training, job placement, supported employment, and daily living skills and community integration skills training to some 550 adults with disabilities throughout the Antelope Valley. To that end, the agency partners with local businesses, both for-profit and non-profit, to provide these critical training opportunities, as well as job placement, for those participating in DHE's various programs. "Unfortunately, the State of California is falling short with respect to fulfilling its due diligence to uphold the Lanterman Act, which guarantees that Californians with disabilities will be supported and afforded every opportunity to live life as any Californian would, by ensuring systems and supports, like Desert Haven, are in place and funded to assist them, " DH executive director Jenni Moran shared during the ceremony. "As a result, programs and services like ours are literally fighting for their lives and, sadly, many throughout the state have already closed their doors. It is because of the wonderful relationships and partnerships among businesses, like Antelope Valley Subaru, and other interested individuals, who truly care and demonstrate corporate citizenship and boundless generosity, that Desert Haven has been able to survive and continue to provide these vital services. There simply are not enough words to express the depth of our gratitude for this incredible gift. Thank you, Subaru Antelope Valley for sharing the love with Desert Haven! We are humbled, honored, and blessed," Moran said. Desert Haven will use the funds to assist in the purchase of a mid-size bus, with several wheelchair bays in order to transit persons, who must use a wheelchair for mobility, to and from their vocational training sites.
---
Sharing The Love - Desert H
At Subaru Antelope Valley we believe that work plays an integral role in the lives of human beings, and through work, people become productive and contributing members of their community. People with intellectual and other developmental disabilities are no different. They, too, desire and seek the opportunity to work and gain feelings of self-worth, self-confidence, and self-respect through work experience. The sales team at Subaru Antelope Valley took on the task to sell as many cars as they could during the Share The Love Event, in order to enhance the lives of those with developmental disabilities through our local charity Desert Haven. Our team not only was up for the challenge but felt very rewarded after meeting everyone at Desert Haven.
---